11. Oktober 2009 – Archiv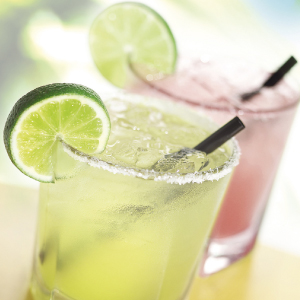 A few weeks ago, eurOut featured the official L-Beach website as "Website of the Week". L-Beach is a new women's festival that will take place for the first time from April 16th to April 18th, 2010, at the holiday beach resort "Weissenhäuser Strand" in Northern Germany. Read on to learn more about the festival and the woman who makes it all happen.
"I like to try my hand at something new from time to time, so it was probably inevitable that one day, I would end up organizing a festival," Claudia Kiesel says with a smile. It's a busy Friday evening in her coffee bar Kyti Voo, but she still manages to find time to talk about L-Beach. Besides running a popular meeting place for the LGBT community in Hamburg's gayest street, Lange Reihe, Claudia has been keeping herself busy with organizing parties for women, as well as "unisex" parties, and is member of the executive board of Hamburg Pride, the association that organizes Hamburg's annual gay pride parade. And now it's a women's festival, and not just any festival, but "Europe's Biggest Women's Indoor Festival".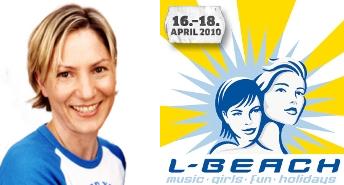 But what exactly is L-Beach? Even though the "L" in the name suggests otherwise, Claudia emphasizes the fact that it is not meant as an exclusively lesbian event, but that it is open to all women. "I did not want to exclude the straight best friend, for example," she says. Also, unlike other lesbian events, the focus is on entertainment and having fun rather than on serious political topics. As Claudia puts it: "I just want the women to self-confidently have a wicked weekend."
And chances are bright that they will. Among the artists whose appearances have already been confirmed are lesbian favourites Uh Huh Her and Sarah Bettens, former German "Superstar" Elli Erl, Singer/Songwriter Mckinley Black and Danish band Cherry Overdrive. Out U.S. model/actress Jenny Shimizu will also be there as a presenter. In addition to two stages for live music and three dance floors with DJanes from all over Europe, there will be a marketplace with sales and information booths as well as a presentation of international, lesbian-themed movies. Visitors to the festival will also be able to use all the facilities offered by the resort, such as the pool area, mini golf and bowling.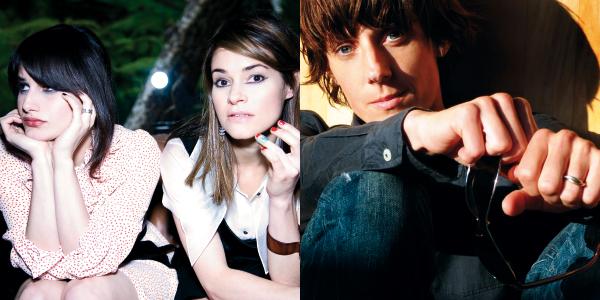 And of course, there is the beach. Weissenhäuser Strand is located at the coast of the beautiful Baltic Sea, but due to the unstable weather conditions in Northern Germany, especially in April, the beach was not explicitly included in the planning of the event. "We planned the festival as an indoor event to be independent from the weather. The beach is kind of a bonus," says Claudia.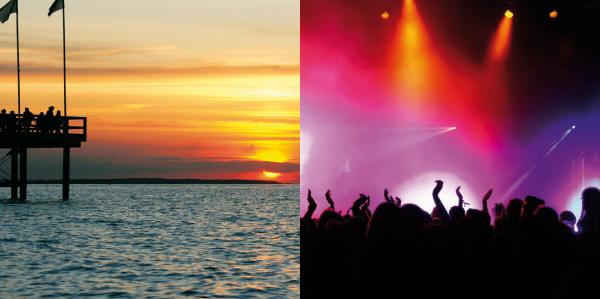 Even though there are obvious similarities to the Dinah Shore Weekend, the famous lesbian event that takes place in sunny Palm Springs every year, Claudia explains that "Dinah Shore" was not the sole inspiration for L-Beach. As events like the gay pride parades are usually leaning towards men, the idea was to do something for women, like a huge party. She was also inspired by visiting the "Baltic Soul Festival", an annual soul music festival that takes place at the same resort. Luckily, the management of the resort was open to the idea of a women's festival.
The organization of a festival as big as L-Beach is of course not a one-woman-show. Besides Claudia, about 10 other women in Hamburg alone dedicate their spare time to make L-Beach happen. They are also being supported by the organizers of the "Baltic Soul Festival". German lesbian magazine L-MAG, online dating service gay-PARSHIP, movie theatre chain CinemaxX and Edition Salzgeber, distributor for mostly queer films, could be won as partners for the event.
Women who want to be part of the fun should not wait too long before booking. Even though the new and advanced website, which now allows you to book tickets online, has only been up for a few weeks, more than 1.800 tickets have already been sold to women from all over Europe, and some categories are already sold out. And as for those who might still struggle with spending so much money for a weekend of fun, maybe this can put your mind at ease: L-Beach is a Breast Cancer Charity, which means that parts of the proceeds go to the German Breast Cancer Society.
Asked whether there is anything else that Claudia would like to tell eurOut readers about L-Beach, she simply replies: "Just that everybody should come and bring everybody they know." And, after a brief moment, she adds: "Oh, and if anybody knows Ellen DeGeneres, they should refer her to me. I'd love to have her for L-Beach, and she can even bring Portia".
Message hereby delivered.
(Posted on eurOut on October 10th, 2009)